How To Rank For Google Maps For Local Business?
Google Maps is a very important subject for SEO companies nowadays as most search results are getting local day by day.
What is Google Maps?
Google maps are map results on google shown when someone searches with a location for ex. Doctor in Cape Town or varicose veins doctor Cape Town. It may even show up if not searched without location.
Previously google used to show 7 results but now it show only 3 results
Now
Search results for keyword "doctor in Cape town
So now with the introduction of penguin and possum it's more difficult to optimize for google maps.
2. Why should we do google maps marketing?
While looking at the maps we can easily understand that the person sitting on top will receive maximum calls and clicks. According to google almost 70% traffic is there on google maps
Also on mobile device results are shown one by one and with the possum update the nearest one will have advantage for local results.
3. Methods Used To Gain Ranking On Map
Google My Business- It's a free toll my google for business owners to manage their business online. they can put their information on it, manage their phone no etc.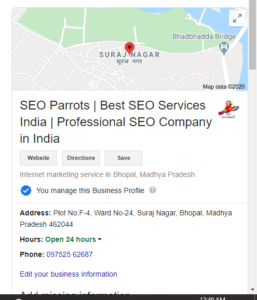 Snippet of how our business looks on google when searched by brand name "SEO parrots"
How to manage
Complete the listing up-to 100% complete the following
Name
Address
Phone no
Opening and closing hours
Add latest photos
Use Geo tagging
Description using keyword
select the best category
Publish posts regularly
2. Citations – We can use business listing websites using NAP technique which means name, address and phone no consistently across the website
Some example of these websites are yelp, indiamart, just dial etc.
3. Local news – if local news mentions your business its of great relevance it give a good signal to google that you are a local business
4. On page factors – We need to use local keywords on the website which will give google an idea as to how to rank the website. For example if it's a dentist website and you are targeting Cape Town then keywords used on the website should be dentist in Cape Town, best dentist in Cape Town etc.
Below is the result of one of our clients whom we helped in getting ranking on google maps
Search results for keyword "varicose veins port Elizabeth"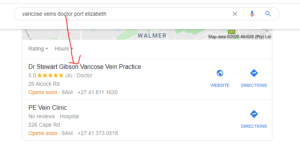 About the author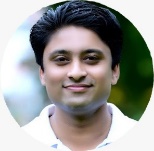 George Chacko is the founder of SEO Parrots he has worked on various SEO and google ads projects and helped clients to achieve their marketing goals. He has a experience of more than 10+ years in digital marketing. SEO Parrots its SEO services all across the globe and South Africa.