Are you going to choose SEO Over PPC?
Well that is a question which many advertisers ask me that what the best method to promote their website is. The answer it depends on the following factors.
Nature Of Service – Nature of service will determine the type of keywords which we need to use in a website if the keywords used are local then SEO may be easy for suppose "plumber Mumbai". But when we talk about national or international keywords SEO becomes very difficult ex. "plumber india "or "plumber usa" for these types of keywords PPC should be used .
Location – Targeting smaller regions through SEO is possible but when we talk about large areas PPC should be used.
New Business or Old Business – New business is going to struggle while doing SEO because there is lots of competition and getting organic traffic so new business should always use PPC
Results – People looking for quick results should use PPC as SEO takes time.
Return On Investment- SEO gives much better return on investment . PPC is very expensive and very difficult to keep going with it for a longer period of time. So we need to analyze the returns on investment before opting a strategy people prefer using google ads service for a start then use SEO simultaneously.
Conclusion
So before starting a digital marketing activity we need to carefully analyze these factors and select the best strategy. According to me its better to consult a SEO Expert or google ads expert before starting your internet marketing activity.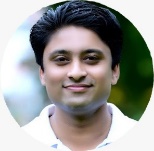 George Chacko is the founder of SEO Parrots he has worked on various SEO and google ads expert in India and helped clients to achieve their marketing goals. He has a experience of more than 10+ years in digital marketing. SEO Parrots is the SEO Company in India, offering Digital Marketing Services like SEO, SEM, SMM and ORM with best price.