Welcome Mumbai
SEO Parrots is SEO agency based in Mumbai providing quality SEO services all over Mumbai having experience of more than 10+ years in SEO. Our SEO experts in Mumbai have worked on various projects and given results on deadline. We have developed a unique approach of SEO which is different from other companies.
As we all know Google has the biggest market share in India and everyone wants to be #1 on Google to generate more sales or leads for their website. But it's not easy nowadays as there is much competition on the search engine previously most people don't or business owners didn't do SEO or given much importance to it as they we not aware of its benefits.
That has changed in decade now everyone is doing SEO to rank their website on top especially in a city like Mumbai.
Here is our SEO Process-
1. Penalty Check- Penalty in simple word is punishment by google on a website for non-compliance for its marketing guideline or it come as a result of an update by google in its algorithm.
Video below can give you a complete idea of what penalty is –
How Google Algorithm Updates Can Get You Blacklisted | Avoid These 3 SEO Mistakes!
We try to remove this penalties as without removing them we can't get rankings as soon as possible.
2. Technical SEO Audit – Technical SEO audit is done in the initial phases of SEO optimization it done to make sure that the website is doing well technically. Our SEO experts based in Mumbai do a manual technical SEO audit to check the issues in a website WE DO NOT TAKE HELP OF ANY SOFTWARE OR TOOLS IN DOING AUDIT. We take into consideration various factors while doing an audit of the website.
3. Keyword Research – It is the center where our SEO activities revolve. A SEO parrot is the only SEO company in Mumbai which has a very unique way of doing keywords research. First we try to understand the business of our clients and we suggest them the best suitable keywords. For example a local florist in Andheri Mumbai a good keyword would be "florist in Mumbai"
But based on our experience we will optimize his website for "florist in Andheri Mumbai" as most times people look to buy from the nearest location.
How To Do Keyword Research for SEO : All You Need to Know 2020 at SEO Parrots
WE OFTEN USE GOOGLE ADS FOR RESEARCHING KEYWORDS ALSO
Our SEO experts based in Mumbai have aces to many paid tools also which gives them access to competitor keywords as well
4. On Page – We apply the selected keywords on the website. While doing this we keep in mind the keyword density and way we are using them
5. Backlinks – We have a look at the competitor's backlinks as well. Suppose for keyword "flower delivery in Mumbai" the website which comes on 1 position is https://www.floweraura.com/sendflowers/mumbai so we will check how many backlinks this page has created.
Now we know what should be the minimum amount of backlinks needed to rank and domain authority to be on 1 position.
6. Review And Analysis – We keep on reviewing our SEO plans and keep checking our ranking. Search console and google analytics is also used to get deep insights
Apart from this we have a team of experienced SEO experts who have a experience of more than 10 + years in SEO. Our team has worked on various difficult projects and given rankings in quick time.
We do not believe in fake claims and take those projects only whom we think we can deliver.
Do visit us for a cup of coffee.
FAQS
1. What is Local SEO?
Local SEO Means doing SEO for local keywords such as SEO agency in Mumbai, SEO Company in Mumbai and SEO expert in Mumbai
2. How do you analyze competition?
We do a manual audit of the website and we have paid tools to give an idea of our competitors
3. Do you suggest everyone for SEO?
No, we don't suggest everyone to go for SEO. We usually suggest medium level businesses to opt for SEO. Starters have less chance to succeed as it takes time to see results.
About the author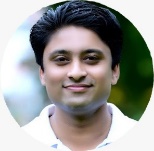 George Chacko is the founder of SEO Parrots he has worked on various SEO and google ads projects and helped clients to achieve their marketing goals. He has a experience of more than 10+ years in digital marketing. SEO Parrots is the SEO Company in India, offering Digital Marketing Services like SEO, SEM, SMM and ORM with best price.